Experts in Garden Design, Landscaping, Maintenance, Fencing, Gates, Pergolas, Artificial Grass, Jakwall & Sleepers… and more.
Garden Design
---
Qualified with a Professional Diploma in Garden Design, we offer a personalised service, whether you're looking for ideas for a blank canvas in a new property or making improvements to an established garden.

We collaborate with you through the while design process, gathering your ideas in order to produce a detailed, precise garden design. Once the final design has been tailored to your individual needs and agreed, we can discuss how the design will be rolled out.

Click on the photo to see more examples.
Landscaping
---
Landscaping a garden provides an extension to the home, creating a relaxing haven to unwind and entertain. We will work closely with you to create your perfect garden, incorporating soft and hard landscaping elements tailored specifically for you.

Click on the photo to see more examples.

Fencing
---
Fencing is a key design feature when planning any garden, whether its purpose is for security, acting as a boundary, for definition within a garden, or to keep family and pets safe.

Suppliers offer an extensive range of fencing styles catering for both traditional and contemporary looks. Traditional fencing consists of wooden or concrete posts, secured in the ground with concrete. Wooden or concrete gravel boards then raise panels off the ground to prevent excess moisture damaging the fencing. Panels of your choice are then screwed or slotted into place.

Click on the photo to see more examples.

Here are a few examples of fencing styles and a brief description to assist you:

Featherboard – panels come in a wide selection of heights and can have either a level, concave or convex finish.

Tongue & Groove – panels are fully framed, strong and provide a classy overall finish. Available in either level or convex top.

Hit & Miss – panels come in four sizes with either vertical or horizontal boards. Perfect for gardens with a windy aspect.

Venetian – a contemporary panel ideal for creating dramatic light and shade effect in your garden.

Chilham – panels are sophisticated and high quality with no visible support rails so are aesthetically pleasing from both sides.

Security & Commercial Fencing
---
We supply and install a wide range of security fencing to meet any requirements, whether you are looking for a permanent security fixture, or a more temporary solution. We offer a selection of both wooden and metal products, including gates and railings.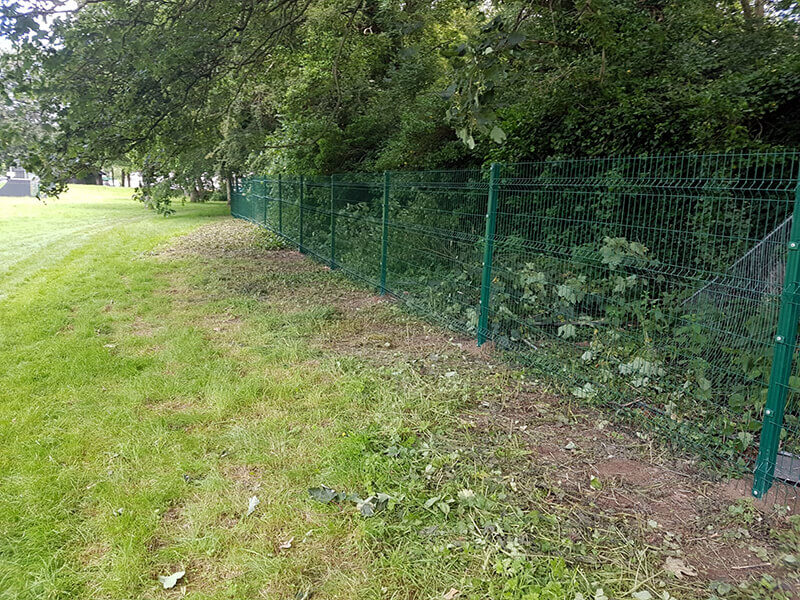 Gates
---
We can provide a wide range of pedestrian, side and driveway gates from budget gates through to high end metal framed, timber clad gates carrying a 25 year guarantee.

There is a vast range of gates available to suit every taste and requirement – so browse through some of the styles including smooth, child friendly, dog and pet proof as well as high security. If you don't see what you're looking for, then ask and we will happily source the right gate for you.

Styles of gates available:

Featherboard
Tongue & groove
Hit & miss
Venetian
Chilham

More styles available on request.

Click on the photo to see more examples.

Decking
---
As more of us are spending an increased amount of time in our gardens, a deck is a wonderful extension of the home where we can share a meal with family and friends. It is a perfect solution for sloping sites, for terracing or for joining the garden to the house. Grooved timber, hard wood or composite decking is available.

Click on the photo to see more examples.

Pergolas
---
Pergolas give an attractive height to any garden and are available in single or double width together with corner designs. A pergola can be a fantastic centrepiece to your garden, providing both height and structure. We can incorporate trellis or or wires into the pergola to allow climbers to grow up the height providing dappled shade. They can be a lovely walk-way or an attractive screen for eating areas. We can fit ready-made kits or build bespoke displays depending on your preference. Why not add climbers or fairy lights to create a perfect little retreat.

Click on the photo to see more examples.

Artificial Grass
---
With an artificial lawn, you have the benefits of a perfect lawn all year round. If your existing lawn is susceptible to water logging, this is a perfect solution. Ideal for children to play on, and an area for pets to roam without getting covered in mud as well as being versatile enough to incorporate patios, sun terraces and hot tub areas.

Click on the photo to see more examples.

Jakwall & Sleepers
---
An attractive alternative for retaining earth in the garden whether it be for a play area, pond or as raised planters. Aesthetically pleasing, jakwall and planters provide a soft, more natural look to brick and stone.